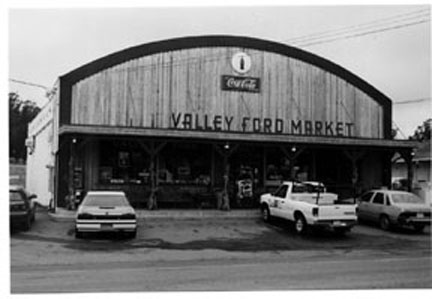 VALLEY FORD
MARKET & DELI
14400 Coast Hwy One,
Valley Ford, CA. 94922
(707) 876-3245
The Valley Ford Market successfully promotes a real old-fashioned general store atmosphere. This is a real "mom and pop" family business with Dennis and Linda Becker operating the market along with sons Michael and Steven. "We encourage a friendly community shopping experience for locals and tourists to enjoy," they state, "Because the community and tourist needs are so diversified, we stock anything from road flares to diapers. This large market has a full selection of canned foods, baked goods, seasonings, desserts, beverages and premium California wine and local mirco-brewed beer. In the deli you can order a made from scratch sandwich from a selection of dozens of cheeses and meats. Light hot entrees and salads are also available.
The late 1800's ethic of "everything for the everyday needs" has been applied here. To begin with: candles, firewood, hardware, tools, some automotive supplies (fix-a-flat, oil & transmission fluid), fishing tackle & bait, some canning equipment, light clothing for summer wear at the beach, books and magazines, VCR & video rentals, gives one a glimpse of the stock. Open rain or shine 365 days of the year, the Valley Ford Market is a lifeline you can count on.
$-$$ VALLEY FORD MARKET
Food and Provisions
Open 7 days a week year around 6am-8pm (summer) 6am-7pm (winter)
Local & Travelers Checks
14400 Coast Hwy 1, Valley Ford, CA 94972
(707) 876-3245