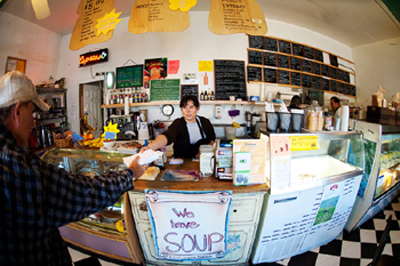 TOMALES DELI
& CAFE LOUNGE
Delicatessen & Catering
27000 Hwy 1, Tomales, Ca. 94971
(707) 878-2732 Sit down & to go.
Open Daily: 7:00 am - 5:00 pm
Wi-Fi Is Available to Customers
The Tomales Deli, at the corner of Hwy. 1 and Dillon Beach Road, is a great place to stop for breakfast, lunch, picnic goodies or snack foods. Proprietress Joanna Rosenfeld and her staff create lots of gourmet delicacies. Open daily from 7am - 7pm, the Tomales Deli specializes in hot, cold, vegetarian and meat sandwiches including California roasted lamb, fresh shrimp salad with cucumbers on garlic bread and when available the wild Alaskan salmon burger. A variety of refreshing salads are served including spinach, fresh garden greens and pear & pecan with blue cheese and raspberry chipotle plus fresh made potatoe or macoroni salads.
Time permitting, visitor's questions about the area are answered (a sign on the door points out "17 miles to gas"). This full service deli art gallery is enhanced by fresh organic fruits, vegetables and produce from Sonoma/Marin farms and gardeners within miles of the chefs creative hands. Strauss organic ice creams, as well as chilled juices, fresh brewed coffee, espresso and delicious mochas are served. Inside the cozy lounge with plush couches, antique tables and chairs locals and travelers from near and far contemplate how they will spend the day. Pathetic intellectuals roll big words around over mochas or lattes and ponder their fate as the world around them crumbles and a new world of uncertainty takes shape. Across the street the uncomplicated drink away their cares at the William Tell Bar. There is a clean corner bathroom and pay phone out front. "Kiddy corner" is the Continental Inn BnB with the spectacular dog friendly Dillon Beach just 2 miles to the west.
$-$$ TOMALES DELI
Delicatessen & Catering
27000 Hwy 1, Tomales, Ca. 94971
Cash, MC & Visa and Local Checks
Open Daily 7:00 am - 5:00 pm