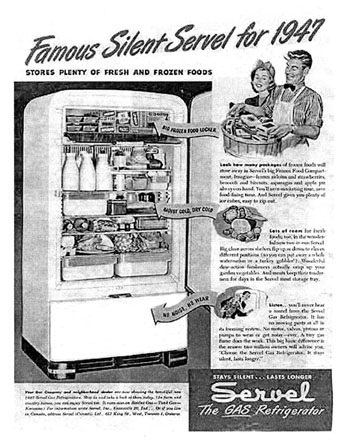 PROPANE REFRIGERATORS
- ALL TYPES -
For COUNTRY CABINS, RV's, ETC.

SERVEL, DOMETIC, ASTRAL, ETC.
Also Older Model Gas Stoves
Hi,
My name is Randy Martin and I am a Mobile Propane Repair Expert who gives advise on the selling and repair of used and reconditioned propane refrigerators and older propane stoves. My jobs have taken me into the Western United States and northern Mexico. I have over 40 years experience and offer limited guarantees on reconditioned gas refrigerators and stoves. I also buy, sell and trade Dometic and Servel refrigerators for remote cabins, RV's and vacation or home get-a-ways. You may call, write or email me your questions and concerns. I specialize in remote and off-the-grid lifestyles and am descrete and courteous with lots of references. I am networked with warehouses full of spare parts and building supplies for fringe scientists and inventors. I sometimes use a mobile camper I can park on your property during repairs - or if you have a spare couch, TV and pizza I will give you the "Randy Couch Potato Special". (1950's and 1960's Mummy, Werewolf, Dracula and Frankenstein movies are a plus).
Call RANDY's cell phone at (707) 703-6416
(if no answer leave a short and specific message and time(s) to call you back - give me a day or so to get back as I may be remote or out of cell phone range. You can also write me at:
RANDY MARTIN,
P.O. Box 331,
Valley Ford, Ca 94972
Thank You.
DO THE TIMES HAVE YOU STRESSED OUT BATEMAN? Perhaps you need a NEW BRAIN!
Igor you fool - Be a little more cool! Perhaps you need a new REEFER from RANDY!
Remember laughter is the best medicine - so how about a few "horrific blasts from yesteryear?"